Ransom or realism? A closer look at Biden's prisoner swap deal with Iran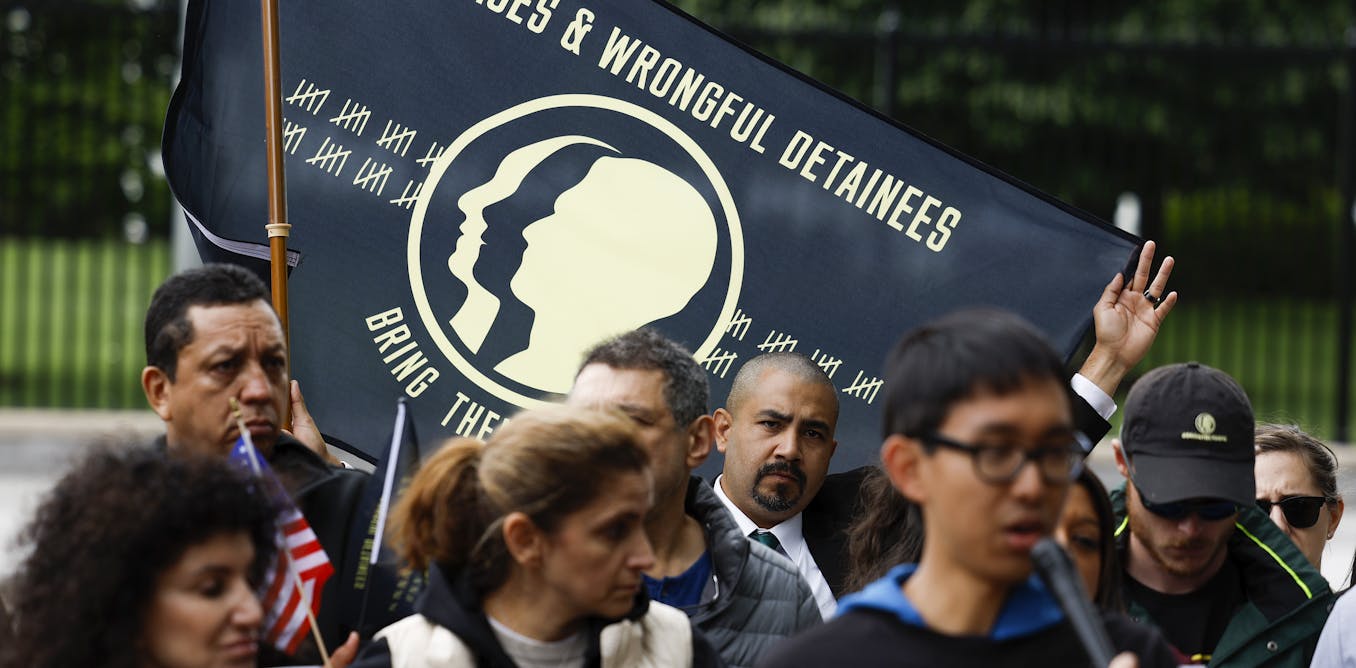 The Biden administration's agreement with Iran for a planned swap of prisoners could be seen as a simple business transaction to free five Iranians from imprisonment in the U.S. and five Americans, some with dual citizenship, from detention in Iran.
But the agreement has broader implications for U.S.-Iranian relations, the future of Iran's nuclear program and for the tense relationship between Iran and Israel, which is largely defined by the status of Iran's nuclear capabilities.
Under the deal, the U.S. unfreezes US$6 billion in Iranian oil revenue so the Iranian government can purchase humanitarian goods, such as food and medicine. The money was frozen in a restricted South Korean bank account in 2018 after then-President Donald Trump pulled the U.S. out of the Iran nuclear deal and reinstated strict U.S. sanctions against Iran. The U.S., Russia, China, the U.K., France and Germany had reached the deal with Iran in 2015.
As part of the hostage agreement, Iranian officials can use the funds only under "strict oversight" of the U.S. Treasury Department. The Biden administration issued a waiver in early September 2023 so that international bank officials don't fear U.S. penalties when they transfer the once-sanctioned Iranian funds to the central bank of Qatar.
Yet, in the world of global politics, matters are seldom as simple or straightforward as they may appear. In fact, in this instance, they could hardly be more complex. And the geopolitical and domestic stakes involved could hardly be higher. There are three primary reasons for this.
1. Iran has been a long-standing issue in US domestic politics
Ever since the 1979 Iranian hostage crisis, which ended President Jimmy Carter's hopes for a second term in office, few countries have aroused as much emotional hostility in the U.S. as Iran. As soon as President Joe Biden's deal with Iran was announced, foreign policy hawks in Congress, mostly from the Republican Party, such as senators Lindsey Graham and Ted Cruz, issued dire warnings.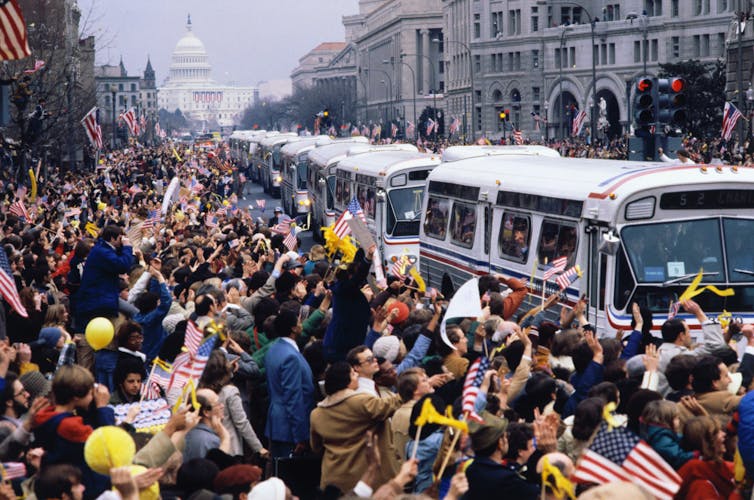 Buses carrying the 52 former American hostages from Iran are mobbed by well-wishers on Pennsylvania Avenue in Washington, D.C., on Jan. 27, 1981. Bettmann/via Getty Images
The deal, they argued, would only give Iran incentives to imprison many more Americans on false charges in order to get U.S. ransom payments, which the Iranian regime could use to sponsor international terrorism.
Nor did the deal do anything, they complained, to discourage Iran from attacking U.S. troops in Syria and Iraq, from endangering ship traffic in the Persian Gulf or from selling dangerous drones and other arms to Russia for use in Moscow's war against Ukraine. Iran may also use American money to support its nuclear program, they contended.
Much of this criticism, though, was based on speculation and false assumptions. For instance, only frozen Iranian funds are involved in the deal, not U.S. money.
Nevertheless, the rancor undermined the Biden administration's attempt to engage with the ayatollahs in Tehran and eventually use the prisoner swap deal to achieve a new nuclear agreement with Iran. I'd argue, however, that the administration could have communicated the terms of the deal to Congress earlier to better prepare members. While, for instance, Secretary of State Antony Blinken signed the bank waiver on Sept. 8, 2023, Congress was informed only three days later.
2. The protest movement in Iran
The prisoner swap is certainly a symbolic victory for Iran and is likely to be celebrated by the country's government-controlled media. Still, the clerics have now ruled for 44 years, and there are very few people in Iran who have illusions about the totalitarian nature of the ruling elite.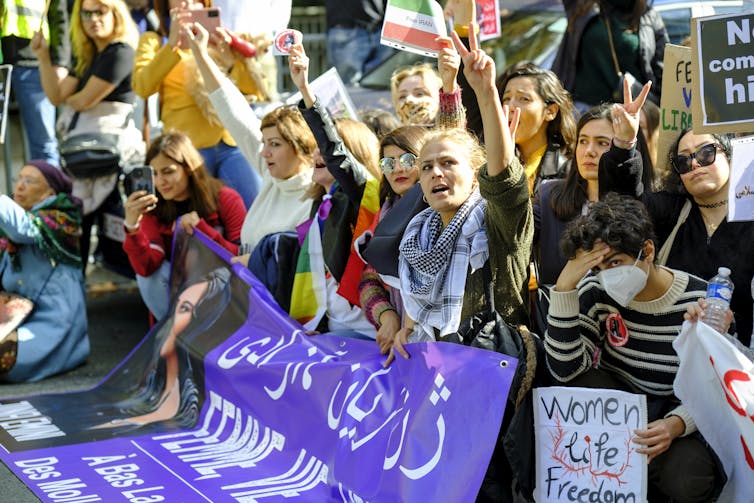 People participate in a demonstration in Brussels, Belgium, against the death of Iranian Mahsa Amini. Thierry Monasse/Getty Images
By contrast, Iranians, especially young ones – those between 13 and 27 – view western movies, music, political freedom and products positively. After the 2022 ban on iPhone sales in Iran, people began buying used iPhones on the black market for much higher prices. More than two-thirds of Iran's 89 million people are under the age 30.
Many of those young people are participating in the civil unrest and protest movement that is largely led by women. The movement erupted in Iran after the September 2022 death in police custody of Mahsa Amini. She was a 22-year-old Iranian woman who was arrested by the morality police for allegedly not covering her hair properly.
The movement has severely undermined the credibility of the regime among the Iranian people. While it has given hope in the western world that political changes in Iran are happening, Iran has executed seven protesters and arrested thousands to put the movement down. The U.S. sanctioned Iran in October 2022 for repressing protesters.
The regime's unrelenting brutal clampdown on the protests has driven the protesters underground, but the movement continues. In fact, the ongoing movement is the regime's most severe domestic crisis ever.
3. The future of Iran's nuclear weapons program and global stability
The prisoner swap and the release of the frozen Iranian oil funds have eliminated a long-standing severe obstacle for improving U.S.-Iranian relations. The countries' interactions have been fraught for so long that their escalation into military conflict is quite feasible.
The prisoner swap confirms to the Iranian regime that the U.S. is a reliable negotiation partner. This is a crucial basis for the reopening of formal nuclear negotiations, which the European Union intends to begin in the next few months.
In the Iran nuclear deal of 2015, the Iranian regime agreed not to develop a nuclear bomb in return for the lifting of economic sanctions. But ever since the Trump administration withdrew from the deal, Iran has been ratcheting up its enrichment of uranium close to the 90% purity level needed to produce nuclear weapons.
All attempts to go back to the 2015 agreement have proven futile so far. In 2022, reconvened talks collapsed before they had even started. Iran wished to obtain a U.S. commitment that any deal reached could not again be overturned by the next president. The Biden administration was in no position to promise anything like this.
Nevertheless, according to media reports, during indirect U.S.-Iranian talks in Oman in May 2023, the U.S. and Iran reached an understanding on Iran's nuclear weapons program. Iran reportedly committed itself to not enriching uranium to a purity level beyond 60%, not allowing Iranian proxy forces to attack U.S. troops in Syria and Iraq and not arming Russia more extensively. Omani officials served as messengers for the two countries.
Officially, both the Biden administration and Iranian leaders dispute that they reached an informal agreement. Each side fears a domestic backlash.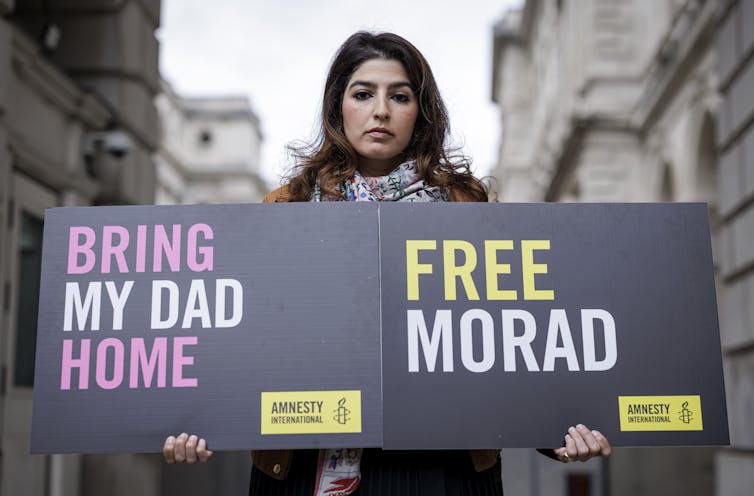 Roxanne Tahbaz, the daughter of Morad Tahbaz, who is being held in Iran, holds placards outside government offices in London on April 13, 2022. Rob Pinney/Getty Images
The planned prisoner swap will go well beyond getting imprisoned U.S. citizens out of Iran and releasing frozen Iranian oil funds for humanitarian reasons. It may well be the basis for making sure that Iran will refrain from attacking American troops, endangering international shipping lines and arming Russia for its war in Ukraine.
Most importantly, the prisoner swap might be a decisive step for the West in reaching a new informal nuclear limitation agreement with Iran. This would stabilize the entire Middle East by preventing an Israeli attack on Iran if Iran were to further develop a nuclear bomb.