Forts Cavazos, Barfoot and Liberty — new names for army bases honor new heroes and lasting values, instead of Confederates who lost a war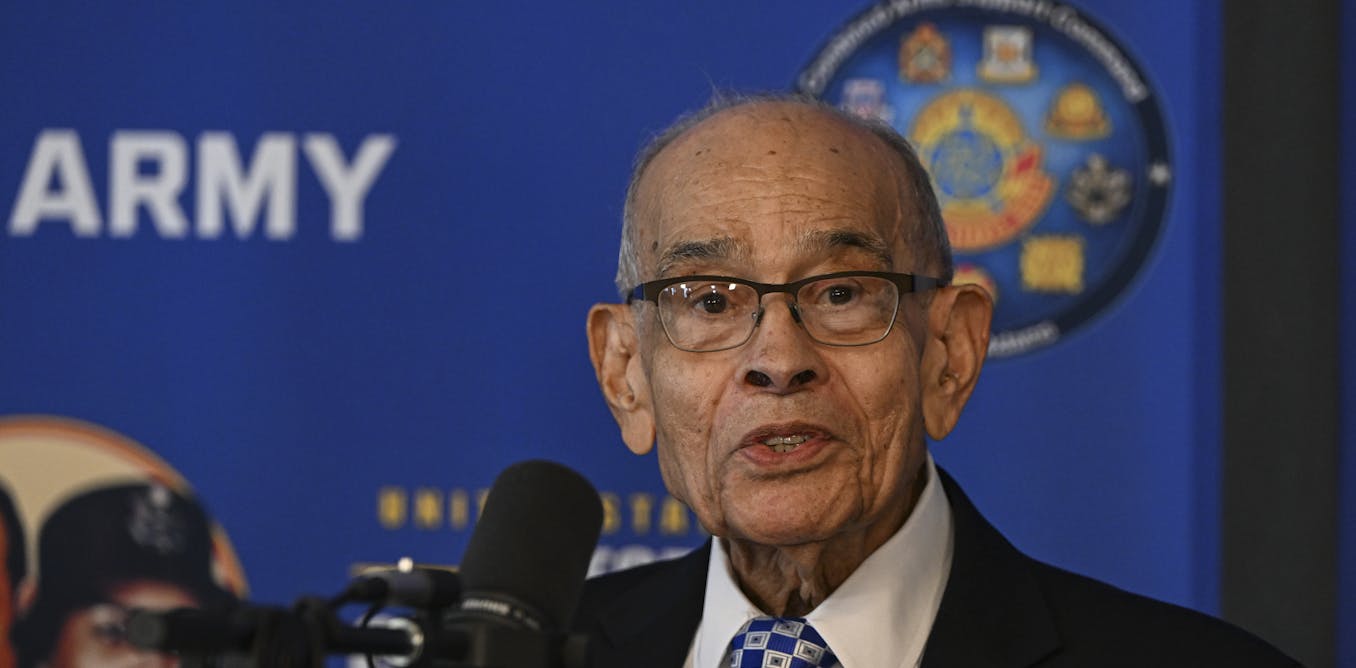 One by one, the names of Confederate generals are being removed from U.S. military bases.
On April 27, 2023, Fort Lee, a military base in Virginia named for a Confederate general, was renamed for two African American officers: Lt. Gen. Arthur Gregg, the U.S. Army's first Black three-star general, and Lt. Col. Charity Adams, who oversaw mail delivery to soldiers in Europe during World War II.
On May 9, Fort Hood in Texas, originally named for a Confederate general who wrote that it would be better to "die a thousand deaths" than free the South's slaves, was renamed for Gen. Richard Cavazos, who earned more than a dozen medals for valor in Vietnam and Korea and became the first Hispanic American promoted to general.
On May 11, Georgia's Fort Benning, named for a Confederate general who said he would rather suffer "pestilence and famine" than give up slavery, became the only base named for a married couple: Lt. Gen. Harold Moore, a Vietnam War hero, and his wife, Julia, an advocate for military families.
And on June 2, Fort Bragg, a base in North Carolina named after a slave-owning Southerner considered one of the worst Confederate generals because of his performance on the battlefield, was renamed Fort Liberty – highlighting the value that the fort's commander said defines what "the people, the families, the civilians, the veterans of this area have done."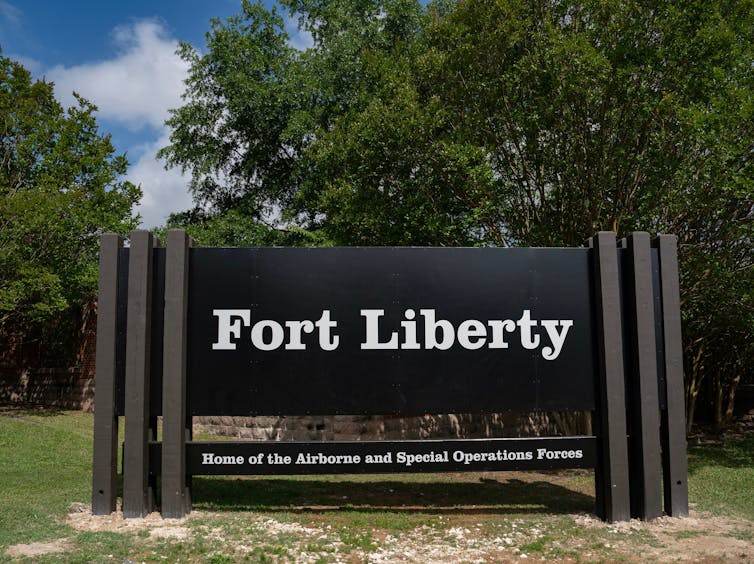 Fort Liberty is the new name for a military base in North Carolina formerly named after a Confederate general. Allison Joyce/AFP via Getty Images
By the end of the year, the U.S. Department of Defense will have removed Confederate names from those and five other Army bases and replaced them with names that exemplify modern-day role models and values.
When the idea of purging such names from the U.S. military gathered steam in 2020, it drew fierce opposition from many conservative politicians, including then-President Donald Trump, who called the Confederate-themed bases "part of a Great American Heritage."
"Therefore, my Administration will not even consider the renaming of these Magnificent and Fabled Military Installations," Trump tweeted before he vetoed legislation mandating the name changes.
Opposition has died down
But after Congress overrode the veto, a federal commission studied the issue for more than a year by holding hearings, inviting public input and sifting through nearly 3,700 names suggested for the nine bases, all in the South.
Surprisingly, complaints about shedding the Confederate names have died down.
Politicians like Republican Sens. Josh Hawley of Missouri and John Cornyn of Texas had initially equated changing the names with erasing history.
Online, reaction to the redesignation ceremonies has been overwhelmingly celebratory.
On Reddit discussion boards, for example, people hailed the new names as a victory not just for social justice but for logical thinking, as many wondered how U.S. Army bases got named for Confederate leaders in the first place.
"Names have power and meaning," one Redditor posted. "Naming the home of the Infantry after a treasonous f—– who killed American Infantrymen to protect slavery makes my blood boil."
Base names rooted in 'lost cause' ideology
Four of the bases had been named for Confederate leaders at the start of World War I, and the others at the start of World War II. In those instances, military officials deferred to local white politicians and groups such as the United Daughters of the Confederacy.
The resulting names reflected the South's Jim Crow policies, which sought to reestablish a society based on white supremacy, and the "lost cause" myth, which claimed that slaves were happy, the North was the aggressor in the Civil War, and the Confederacy's rebellion was an honorable struggle for the Southern way of life, according to the Naming Commission's final report.
Changing of the guard
Fort Pickett, named for the Confederate general who led the ill-fated charge at the Battle of Gettysburg, was the first base to be redesignated.
On March 24, that facility in Virginia was renamed for Col. Van Barfoot, who was awarded the Medal of Honor – the military's highest award – for gallantry in World War II.
Barfoot had Native American ancestry, and he also served in Korea and Vietnam.
On April 10, Fort Rucker, the "Home of Army Aviation" in Alabama, was renamed for Michael J. Novosel Sr., a helicopter pilot who rescued more than 5,500 wounded personnel, including his son, during the Vietnam War.
The fort originally honored Col. Edmund Rucker, who served in the Confederate Army under Nathan Bedford Forrest, a leader of the Ku Klux Klan.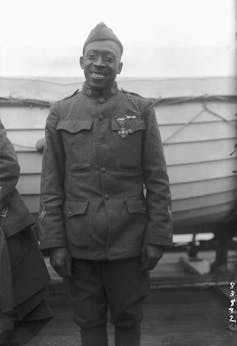 World War I hero Sgt. Henry Johnson of the 369th Colored Infantry will have his name and memory enshrined on a U.S. military base. Bettmann/GettyImages
On June 13, Fort Polk, a base in Louisiana named after a slave owner and Episcopal bishop, will be renamed for Sgt. William Henry Johnson, who single-handedly held off 20 German soldiers during World War I.
Because of racial segregation in the U.S. military, Johnson's unit, the 369th Colored Infantry, known as the Harlem Hellfighters, fought under the French Army. He wasn't awarded the Medal of Honor until 2015 – more than 85 years after his death.
And on Oct. 27, Fort Gordon, a base in Georgia named for a Confederate general who later worked to undermine Reconstruction and reputedly headed the KKK in his state, is scheduled to be renamed for Dwight D. Eisenhower, who commanded the Allied forces during World War II and served as U.S. president from 1953 to 1961.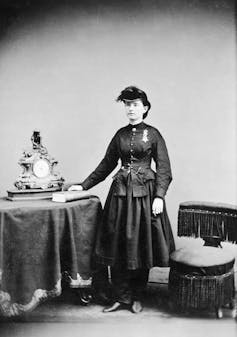 Dr. Mary Edwards Walker was an Army surgeon who saved lives in the Civil War. Mathew Brady/Getty Images
No date has been set for when Fort A.P. Hill will be renamed for Dr. Mary Edwards Walker, the Army's first female surgeon, who saved the lives of both Union and Confederate soldiers during the Civil War and received the Medal of Honor.
No arguments for keeping Confederate names
The renamings so far have come off without controversy – and with no one seriously defending why the bases should continue honoring Confederates.
As Trevor Noah said on "The Daily Show," "Imagine being a Black soldier training at a base that is named after somebody who didn't even think of you as a human being."
Celebrities popular with conservatives have praised the base redesignations, too.
For example, Mel Gibson applauded renaming Fort Benning for Col. Moore, whose memoir was the basis for "We Were Soldiers," a 2002 film starring Gibson.
Several years ago, Troy Mosley, a retired Army lieutenant colonel, formed an organization called Citizens Against Intolerance to advocate for renaming the bases. He attended the ceremony heralding Fort Gregg-Adams – the first U.S. military base named after an African American.
"These new names reflect the diversity of those who have served and sacrificed for our country," Mosley said.
According to the Defense Department, more than 17% of active-duty members of the Army are African American, more than 17% are of Hispanic heritage, and other racial minorities make up another 10%. Women represent more than 17% of Army personnel.
Dropping the Confederate names will pay off in terms of military morale and recruitment, Mosley said.
"It not only makes the armed services more attractive to individuals who may not have a family tradition of service, but it also makes our soldiers and veterans proud to see our values demonstrably reflected in our institutions," he said.