Despite threats of violence, Trump's federal indictment happened with little fanfare — but that doesn't mean the far-right movement is fading, an extremism scholar explains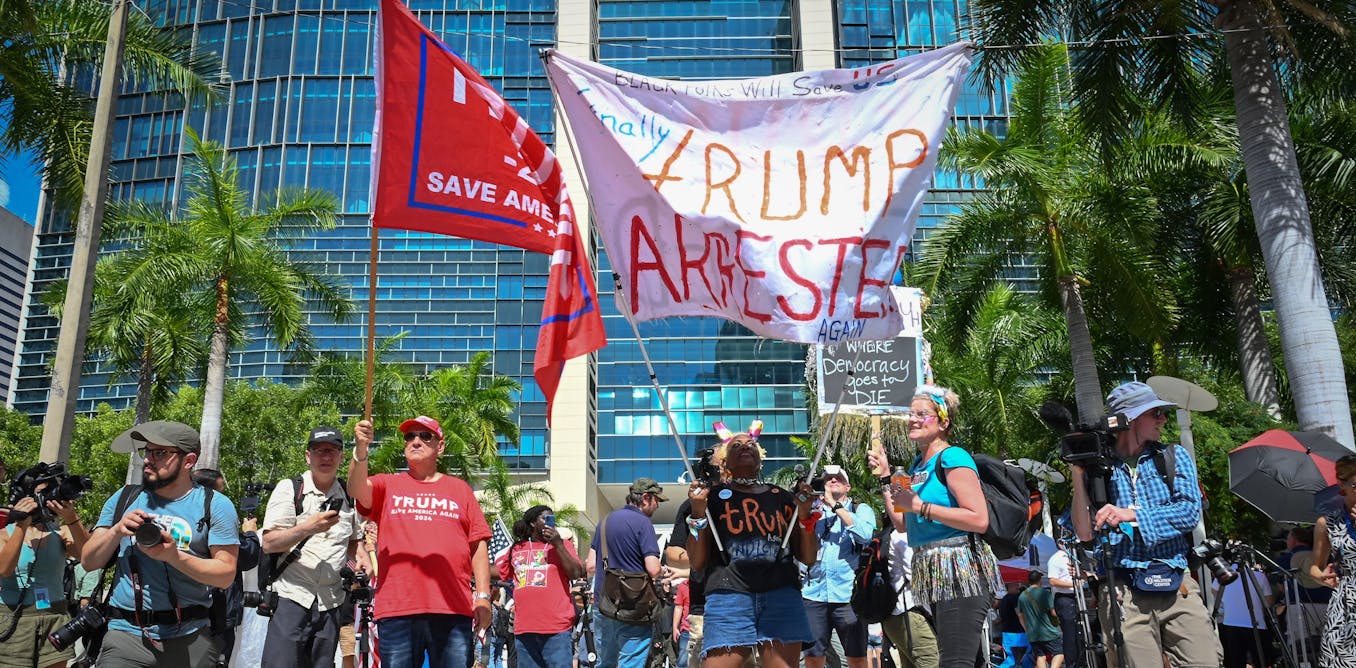 Former President Donald Trump pleaded not guilty at a federal courthouse in Miami on June 13, 2023, to 37 felony counts related to withholding – and refusing to return – classified government documents after his presidency ended.
But the court appearance had little of the fanfare Trump typically attracts at his events. The former president entered and left the building through an underground garage, and no photographs were taken of him inside the courtroom.
News channels, broadcasting the unprecedented arrest live, focused their footage primarily on the protesters who gathered outside, with groups appearing to both support and condemn Trump.
Kari Lake, who lost her election bid for Arizona governor in November 2022, issued a "public service announcement" promising to defend Trump before his arraignment.
"If you want to get to President Trump, you're going to have to go through me, and you're going to have to go through 75 million Americans just like me. And I'm going to tell you, most of us are card-carrying members of the NRA," Lake said.
Other Trump allies have also called the indictments an act of war.
A Florida chapter of the extremist group Proud Boys advertised it expected protests outside the courthouse.
But in the end, Trump's second indictment, this one in federal court, did not immediately prompt any notable, widespread political violence.
Does this reflect the effect of prosecutors having charged more than 1,000 people following their participation in the Jan. 6, 2021, attacks on the Capitol, or is something else at play?
The Conversation spoke with Amy Cooter, a scholar of extremist and militia groups in the U.S., to better understand why Trump's courtroom appearance happened with such little outside fanfare – despite his ongoing popularity among Republican voters and his fierce defiance of the indictments' legitimacy.
Has there been a decline in political violence or extremism over the past few years, especially sincce the Jan. 6 attacks?
It is not something that I track across the board qualitatively, but we have seen that hate crimes increased in several U.S. cities in 2022. I think there has been a tendency for some people to say that Jan. 6 was the peak of political extremist behavior and things couldn't possibly be that bad ahead, and that is a prediction that may be too soon to make.
Most of the feelings that fed into the Jan. 6 attacks are still there. People who participated in the Capitol attacks were identified and arrested, and that can have a deterrent effect. But a majority of Republicans still believe that the election was stolen. It's not the case that those feelings disappeared because folks are being held accountable for the Capitol attacks. As the presidential 2024 campaign heats up, I expect us to continue to have problems with violent actors.
A few people gather on Jan. 6, 2023, to support the Capitol attack protesters who have been arrested. Tasos Katopodis/Getty Images
How have domestic extremist groups transformed over the past few years?
One pivotal moment for extremists groups and their ability to organize and remain cohesive happened when Facebook kicked extremist militia war groups and individuals off of the site, starting in August 2020. Many of these groups are still active, but in more quiet corners of the internet. So their work has become harder to observe from an outside perspective.
In the groups I study, I saw a decline in online activity happen after the Facebook de-platforming. Most of them, despite their argument about preparedness, did not have a good backup plan of ways to connect.
People loosely affiliated with extremist groups also had low motivation to continue trying different platforms to connect. Some activity spread to Parler and other places. But, in general, extremist groups' observable size online decreased, leaving more people who are on the extreme end of things continuing to organize.
We do know groups like this with underlying ideologies don't disappear. They look for opportunities to reengage with those behaviors when they think that the political currency is more in their favor.
People also connect in more discreet ways, such as on group chats that are not public. Sometimes researchers can infiltrate those private spaces, but we know we are missing a lot of what is happening.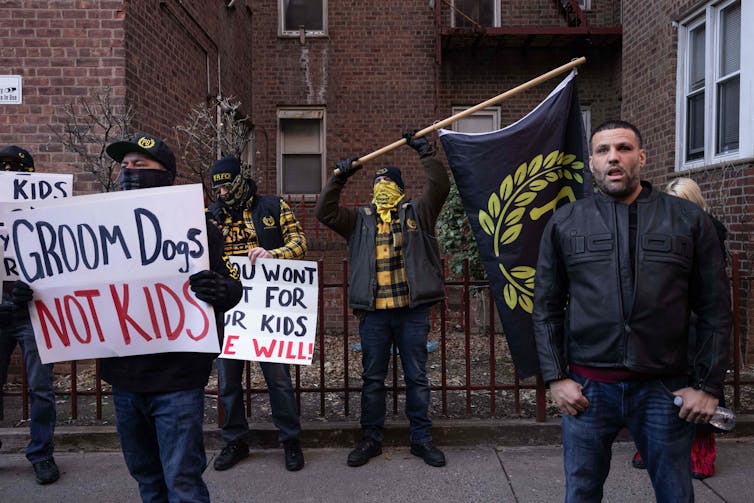 Members of the far-right group the Proud Boys protest a drag story hour at a library in Queens, N.Y., in December 2022. Yuki Iwamura/AFP via Getty Images
How do you assess the potential for Trump's indictments to actually result in political violence?
We are not seeing extremist online activity at the level that we did before Jan. 6. There is some online chatter, but there are a few things playing into the landscape a little differently.
One reason for the decline is that even before news about the second Trump indictment broke, there was a different focus, with a lot of anti-LGBTQ+ chatter, specifically, among extremist groups and people. Some people have called for violence against LGBTQ+ people in different ways, but not with super specific plans. And there has been an overall rise of extremist groups threatening or committing violence against LGBTQ+ groups or people.
It is not all that surprising. This kind of rhetoric is repeating what we are hearing on Fox News and on other more mainstream sources about how LGBTQ+ people are threatening children, and that this is a culture war.
Again, we are not seeing super specific threats, or actionable things that law enforcement can do something about, but the rhetoric is very hot.
Even if we don't see immediate political violence as a result of Trump's legal challenges, people shouldn't take a deep breath of relief about the country's overall threat of violence from these groups. Trump still has the potential to stir his supports to action as the campaign progresses.