George Santos indicted on fraud, money laundering and other criminal charges — 3 essential reads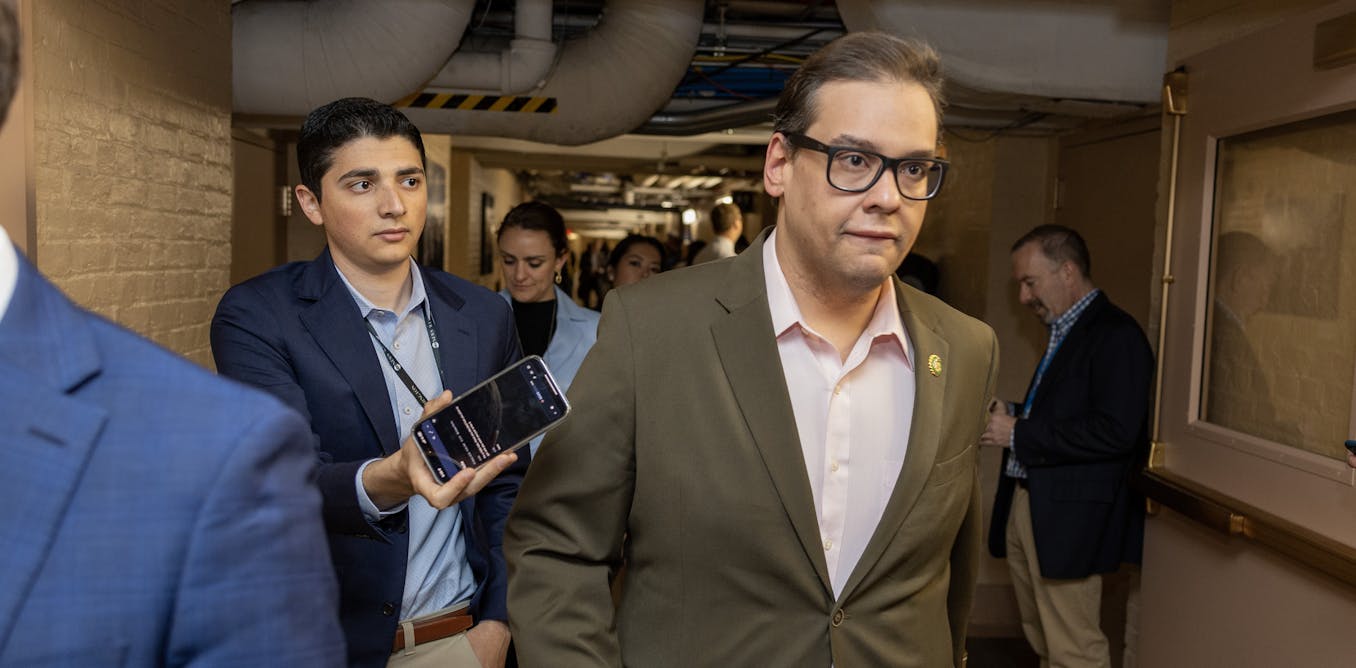 Even by today's low ethical standards for politicians, George Santos is quite exceptional.
The U.S. representative for New York's 3rd Congressional District has been accused of lying about his education, work history, charitable activity, athletic prowess and even where he lives, among other things.
Now some of his alleged lies, the ones the public had not previously heard about, are the subject of a federal indictment as the U.S. Department of Justice has charged Santos with 13 counts of criminal wrongdoing, including fraud, money laundering, theft of public funds and making false statements.
Santos surrendered to federal authorities at a courthouse in suburban Long Island on May 10.
"Taken together, the allegations in the indictment charge Santos with relying on repeated dishonesty and deception to ascend to the halls of Congress and enrich himself," said U.S. Attorney Breon Peace.
Several scholars have written for The Conversation U.S. about Santos, his ability to lie when the truth was readily available and the resentment such lies breed in voters.
Here we spotlight three examples from our archives.
1. Lies, lies and more lies
Professor Sarah Webber is a nonprofit accounting scholar, and what drew her attention to Santos were reports that he fabricated a charity.
On an early version of his campaign website, the freshman lawmaker claimed to have founded and run what has been alleged to be a fake nonprofit animal rescue group called Friends of Pets United.
Regardless of what the stakes are in Santos' case, Webber wrote that fake charities are a serious problem.
"Their scams divert donations that would probably otherwise support legitimate causes that benefit society in one way or another," Webber wrote.
Read more: Allegations that the charity George Santos claims to have run was fake highlight how scams divert money from worthy causes
2. Are lies told by politicians illegal?
As a scholar of constitutional law, comparative constitutionalism, democracy and authoritarianism, Miguel Schor wrote that the bulk of Santos' misrepresentations may be protected by the First Amendment.
Santos' lies may have gotten him into hot water with the voters who put him in the House, including members of the New York GOP who wanted him to resign.
The U.S. Supreme Court has ruled that some false statements are 'inevitable if there is to be open and vigorous expression of views.' AP Photo/Manuel Balce Ceneta, File
But until the indictment, Santos has been able to escape legal accountability.
"The U.S. Supreme Court has concluded that lies enjoy First Amendment protection," Schor observed, "not because of their value, but because the government cannot be trusted with the power to regulate lies."
Read more: George Santos: A democracy can't easily penalize lies by politicians
3. Voters resent unnecessary lying by politicians
As a political philosopher, Michael Blake focuses in his work on the moral foundations of democratic politics.
Lying to voters is not necessarily morally wrong, Blake wrote, as politicians seeking election have incentives to tell voters what they want to hear.
But unlike the usual forms of deceptive practices during political campaigns, Santos' lies have provoked resentment and outrage, which suggests that "voters do not accept being lied to unnecessarily – nor about matters subject to easy empirical proof or disproof."
Read more: All politicians must lie from time to time, so why is there so much outrage about George Santos? A political philosopher explains
Editor's note: This story is a roundup of articles from The Conversation's archives.