Summer reading: 5 books that explore LGBTQ teen and young adult life
In recognition of LGBT Pride Month, The Conversation reached out to Jonathan Alexander – an English professor with a scholarly interest in the interplay between sexuality and literature – for recommendations of young adult fiction books that feature LGBTQ characters. What follows is a list that Alexander, who has just stepped down as the children's and young adult fiction section editor for the Los Angeles Review of Books, considers as "must-reads" for this summer.
1. Darius the Great Is Not Okay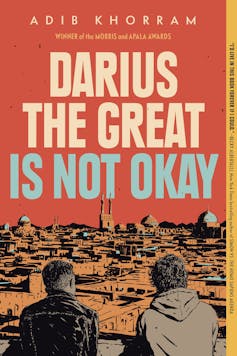 'Darius the Great Is Not Okay' by Adib Khorram. Penguin Random House
Written by Adib Khorram, "Darius the Great Is Not Okay" is told from the perspective of a Persian American teen battling an anxiety disorder while navigating the complexities of growing up in a culturally mixed household. Darius' parents – an Iranian immigrant mother and a white father – are kind and sympathetic, even as they are dealing with their own issues, including the dad's struggle with mental health issues and the mother's attempt to maintain family relations with relatives in a country that is not only halfway around the world but whose government is viewed with suspicion by many Americans. Still, Darius' family pulls together, even making a trip to Iran to visit relatives. While there, Darius learns about his cultural background as Persian, makes a lifelong friend in an Iranian cousin, and considers his own sexuality. He might be gay. How will that complicate his life?
Khorram beautifully handles the challenges – and pleasures – of growing up in a culturally mixed but rich and loving household while also dealing with mental health challenges and identity exploration. And there are a lot of sweet touches throughout, including a love of tea and "Star Trek." Highly recommended for its sensitivity and authenticity.
2. Lark & Kasim Start a Revolution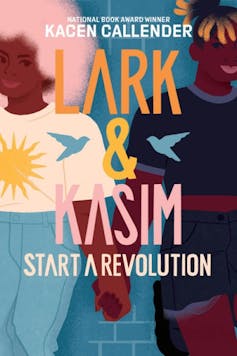 'Lark & Kasim Start a Revolution' by Kacen Callender. Abrams Books
Kacen Callender, whose groundbreaking "Felix Ever After" delighted readers with its tale of a Black trans boy learning how to navigate being in and out of love, returns with a new book just as compellingly real. Lark and Kasim are old friends whose relationship has seen better days. Lark is working hard at being a writer while also trying to help Kasim figure out how to handle the complexities of living at least part of their young lives in the shadows of social media. Ultimately, the book is as much about forging friendships – and learning how to handle their evolution – as about crushes and teen love.
With richly drawn nonbinary and queer characters, "Lark & Kasim Start a Revolution" joins Callender's previous award-winning books in contributing beautifully written and deeply imagined Black, queer and trans characters that readers of all kinds will come to love.
3. Last Night at the Telegraph Club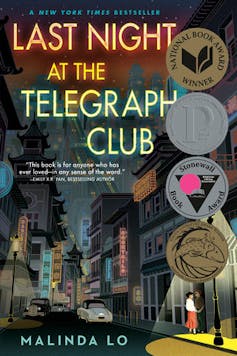 'Last Night at the Telegraph Club' by Malinda Lo. Penguin Random House
Malinda Lo's National Book Award-winning novel is set in mid-20th-century San Francisco, in a Chinese American immigrant community in which Lily Hu has to learn to deal with racism, the "Red Scare" and the possibility that she might be a lesbian. A masterwork of historical young adult literature, "Last Night at the Telegraph Club" introduces readers to how lesbian communities formed – and thrived – even during some of the most repressive and homophobic moments in U.S. history.
Lo's novel joins her previous works, such as the groundbreaking "Ash," a retelling of Cinderella from a lesbian perspective, in creating exciting and affirming work for young queer readers, as well as for anyone who cares for those questioning their sexuality and sense of belonging in the world.
4. Café Con Lychee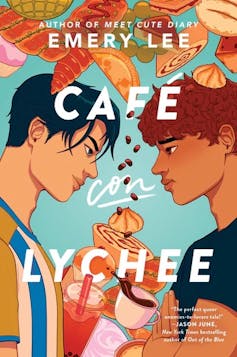 'Café Con Lychee' by Emery Lee. Harper Collins Publishers
Emery Lee's delicious novel centers on the rivalry between an Asian American café and a Puerto Rican bakery in a small Vermont town – with both eateries facing competition from a new fusion restaurant that has just opened. The families that own the cafés each have a young son working in them – Theo and Gabi, respectively – who have to learn to overcome their own rivalry and help their families survive the precarities of operating a business in a world of cutthroat capitalism.
"Café Con Lychee" shows how love survives economic challenges and family foibles as the two young men move from rivalry to romance. A sweet and nourishing tale, the book offers readers a relatable glimpse into making it – and making out – during a time of economic upheaval.
5. Aristotle and Dante Discover the Secrets of the Universe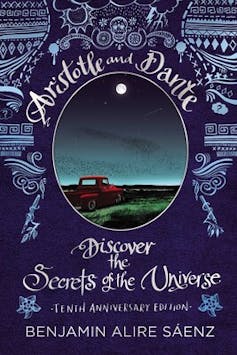 'Aristotle and Dante Discover the Secrets of the Universe' by Benjamin Alire Sáenz. Simon & Schuster
I want to conclude this year's summer reading list with an older work – Benjamin Alire Sáenz's still beautiful, still vital and still very necessary paean to young gay love. Ari and Dante, from two different walks of life, learn to find love and self-acceptance in this beautifully written book. At the start of the book, Ari is dealing with family trouble, including a brother in prison, and Dante is perhaps a bit too smart for his own good. The two meet at a swimming pool one summer, setting the stage for a steamy exploration of friendship that might turn into something more. If you haven't read "Aristotle and Dante Discover the Secrets of the Universe," catch up this summer with this classic of contemporary LGBTQ young adult fiction, and then check out its recently published sequel, "Aristotle and Dante Dive Into the Waters of the World." Happy reading!