Craft breweries are fermenting change, addressing local ills while serving local ales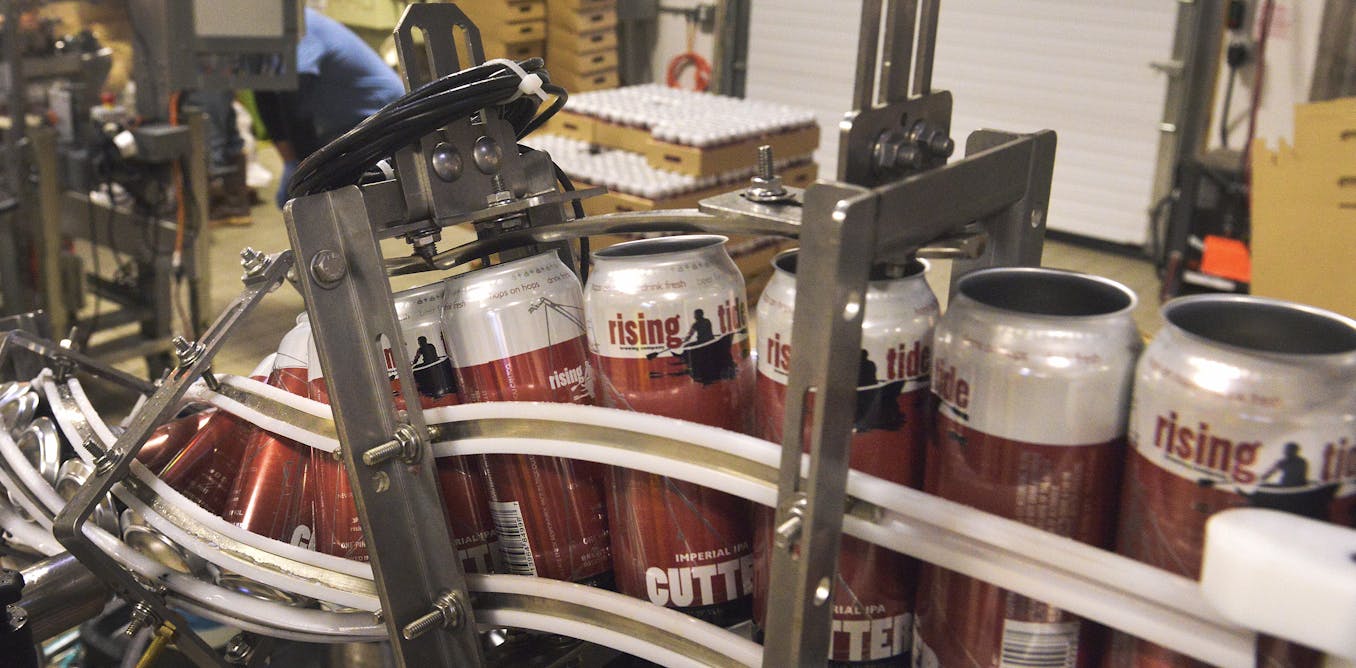 Some scholars say beer and wine – and fermentation in general – helped develop civilization and shaped culture and landscapes over millennia.
Today, craft breweries, which are by definition small and independent and thus focus their production on innovative, small-scale methods rather than industrialized, mass-produced ones, are still playing that role.
They are increasingly prominent players in America's social and environmental landscape, helping to produce what some people call fermented landscapes. They serve as community partners, and sometimes community leaders, to make change happen.
And you thought you were just going out for a beer.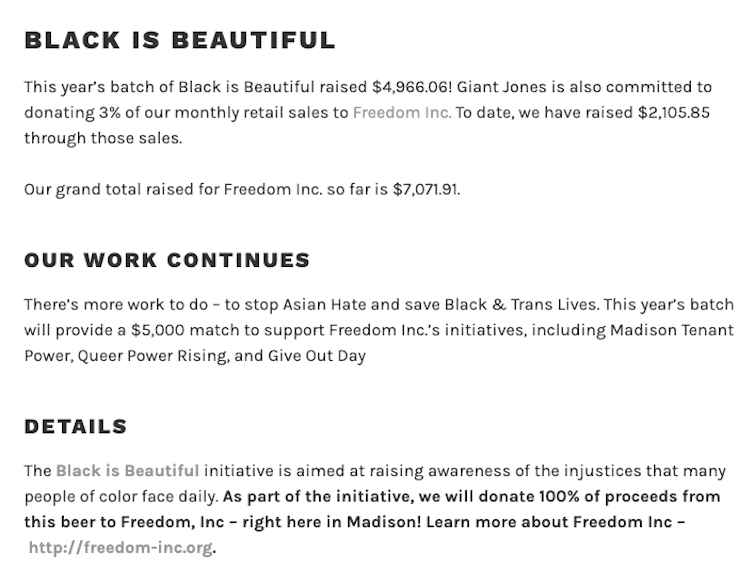 On its website, the Madison, Wisc., women-owned craft brewery Giant Jones describes some of the social justice issues it's involved in. Giant Jones website screenshot
Brewing change
In recent research I conducted with colleagues Delorean Wiley, Walter Furness and Katherine Sturdivant, we found that craft breweries involve themselves in social and political change in three major areas: the environment, community and individual well-being, and the economy, the latter ranging from issues related to employee benefits to profit-sharing.
Consumers can see this advocacy in action in a variety of ways.
For example: Have you ever been to your favorite local brewery while they've hosted a local pet shelter adoption day? Or perhaps grabbed a pint amid a pop-up art exhibit? Perhaps you have purchased a funny – punny – or endearing beer named after a local cause?
All of these are ways that craft brewers are engaging with their communities, and how beer drinkers are taking part in change rooted in their backyards.
Although craft breweries still account for a relatively small proportion of the brewing industry overall – just over 13% by production volume and just under 27% by retail sales – their reach is wide and deep.
By 2018, 85% of people over the age of 21 in the United States had a craft brewery within 10 miles of their residence. Since 2018, the number of craft breweries has increased more than 28%, growing from just over 7,000 to just over 9,000 craft breweries in the nation, suggesting breweries are only further saturating towns and cities.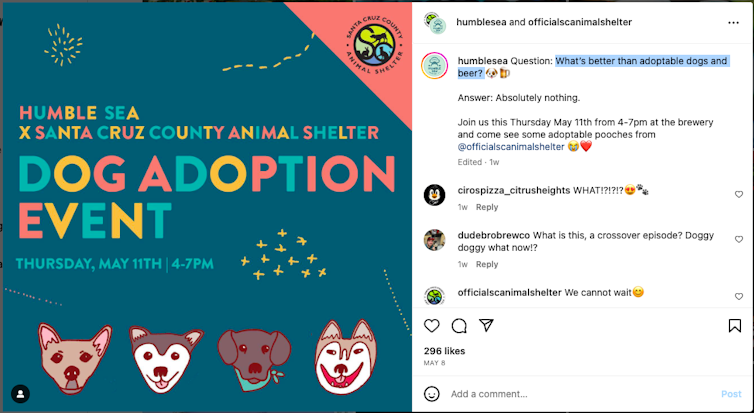 Humble Sea Brewing in Santa Cruz, Calif., hosted a dog adoption event on May 11, 2023, in partnership with the county animal shelter. Humble Sea Brewing Instagram account screenshot
Linking beer to the environment and community
Craft breweries advocate for a wide range of topics. We found that the most common forms of advocacy involved representing nature positively, in both imagery and text, and promoting local community issues, such as local charities.
Beer labels convey information about the beer but also about the brewer's priorities and interests. For example, images of mountains or trees or outdoor activities might invoke environmental values in consumers. Or, a beer might be named after a particular local cause as a way to bring attention to an issue of concern.
These themes – positive representations of nature and supporting local community issues or charities – accounted for nearly half, or 44%, of the total instances of advocacy we saw.
Other advocacy priorities we saw included bids for wildlife conservation, supporting sustainability initiatives, promoting public spaces, defending LGBTQIA+ rights and inclusion, fighting hunger, or homelessness and celebrating first responders and other front-line workers.
Nearly half of the breweries focused their advocacy activities on holding events, donating money, or sourcing the ingredients used to produce the beer locally or sustainably. So a brewery might host a water conservation workshop, or donate a portion of profits to a selected cause, or commit to using only grain grown and processed in state.
But advocacy takes many other forms for breweries, too, which is in keeping with craft brewers' spirit of innovation and independence.
That advocacy includes operating an affiliated nonprofit organization; composting, recycling or generating renewable energy; using GMO-free or ethically sourced ingredients; or having at least one female owner.
Nearly half – 43% – of the breweries sampled were doing some sort of social advocacy, further cementing the role of craft breweries as important players in their communities. This comports with their long-standing reputation for being community-oriented entities, a characteristic acknowledged by the Brewers Association and beyond.
Nearly a third of the breweries sampled in our study engaged in environmental advocacy through representations of nature in website images, label art or beer names. Whether this level of engagement substantively reflects the values – reflected in the recreational habits, political ideologies, beliefs about quality or sourcing – of the clientele, the owners of the establishments, both or neither, is harder to discern. At the very least, it means that environmental imagery is a popular means for marketing craft beer as a local product.
Room for improvement
Very few breweries – just 1% of the sample – made direct donations of profits, despite "cause beer" as a highly visible example of brewery advocacy. The dearth of economically focused advocacy may be a reflection of the already tight margins that most of these enterprises operate under.
Also, despite gains in terms of diversity and inclusion following the release of the Brewers Association's best practices, which include hiring more women and members of marginalized groups and fostering more inclusive spaces and policies, the pace of change has been slow.
Thus, women and other marginalized groups – including LGBTQIA+ communities – continue to be underrepresented in the world of craft brewing, including among the brewery workforce. But there are some efforts underway to change that.
So, while there is opportunity for more profound change in the industry, the evidence suggests breweries are stepping up to the plate to try to enact it.