Black students in Washington state played key role in the Civil Rights Movement, new book states
When it comes to civil rights history, the focus is often on the marches, boycotts, sit-ins and other protests that took place in the South. In "Washington State Rising," Marc Arsell Robinson, assistant professor of African American history at California State University, San Bernardino, takes a look at the civil rights protests that occurred in a lesser-examined region of the United States: the Pacific Northwest. The following Q&A is about what Robinson found for his forthcoming book, which is set to be published in August 2023.
Why write a book on Black student activism in the Pacific Northwest?
As an African American born and raised in Seattle, I was curious to learn if and how my hometown was connected to the protests of the Civil Rights and Black Power movements. I was pleased to learn the city, and region, was deeply connected to these larger movements. I felt a responsibility to share what I had learned.
Also, studies of Black protests from the 1960s tend to focus on the South. And even studies of civil rights events and groups outside the South position the Pacific Northwest as marginal. This pattern holds true of research on 1960s Black student activism, such as the studies of nationwide protest by Ibram X. Kendi and Matha Biondi.
My book shines light on Black Power's reach beyond major cities like New York, Chicago and Los Angeles. It shows Black Power's impact on higher education, and it details how some Black student activists used community organizing and interracial alliances to create change.
What was one of your most interesting discoveries?
The Black Student Union, or BSU, at the University of Washington helped connect the Black Panther Party to Seattle. The group formed in fall 1967, and later several of its members helped co-found the Seattle Panthers in April 1968. This includes Aaron Dixon, who confirms in his memoir that he was in the Black Student Union at UW before being appointed by Bobby Seale as Captain, or leader, of the Seattle Panthers.
Moreover, as detailed in "Washington State Rising," Dixon and other Seattle activists were introduced to the Panthers through BSU activities, including a trip to Oakland and San Francisco in April 1968 for a Black political conference, and the BSU's network of local campus chapters and allied groups.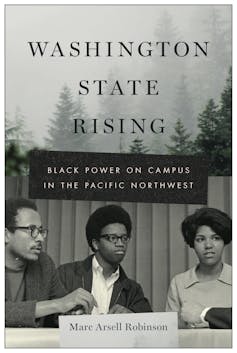 'Washington State Rising' tells the little-known story of the civil rights struggle in the U.S. Pacific Northwest. Marc Arsell Robinson/NYU Press
What is the legacy of the Black Student Union in Washington state?
Examples of the Black Student Union's legacy are the Black studies courses and programs that were established in the 1960s. Prior to this, very few, if any, classes or assigned materials included the perspectives and experiences of Black people. Today, students and faculty continue to study Black history, even if names of programs or departments have changed to ethnic studies and so forth.
Similarly, ongoing efforts to recruit and retain diverse students, faculty and staff are part of the Black Student Union's legacy. The most prominent example is the Office of Minority Affairs and Diversity, known as OMAD, at UW. This initiative was a direct outcome of the Black Student Union's 1968 sit-in of the UW president's office and negotiations with campus officials. The BSU was protesting UW's small population of nonwhite students and faculty, along with related concerns. Today, the OMAD continues to offer African American and other minority students academic advising, cultural support, tutoring, leadership development and more.
What does Black student activism in Washington state look like today?
Black Student Unions are active at numerous colleges and universities in Washington, including the two schools featured in my book, the University of Washington and Washington State University.
Like their 1960s counterparts, progressive Black students today continue to push their institutions to create, maintain and expand initiatives to graduate Black students, hire Black faculty and fund Black studies and related curricula.
In recent years, Black students across the Pacific Northwest have organized in support of Black Lives Matter and against the killings of unarmed Black people, often using social media as a tool for communication and public education. Overall, today's Black student politics and struggles for greater equity continue the legacy of the Black Student Unions of the 1960s.