The law often shields police officers from accountability — and reinforces policing that harms Black people, homeless people and the mentally ill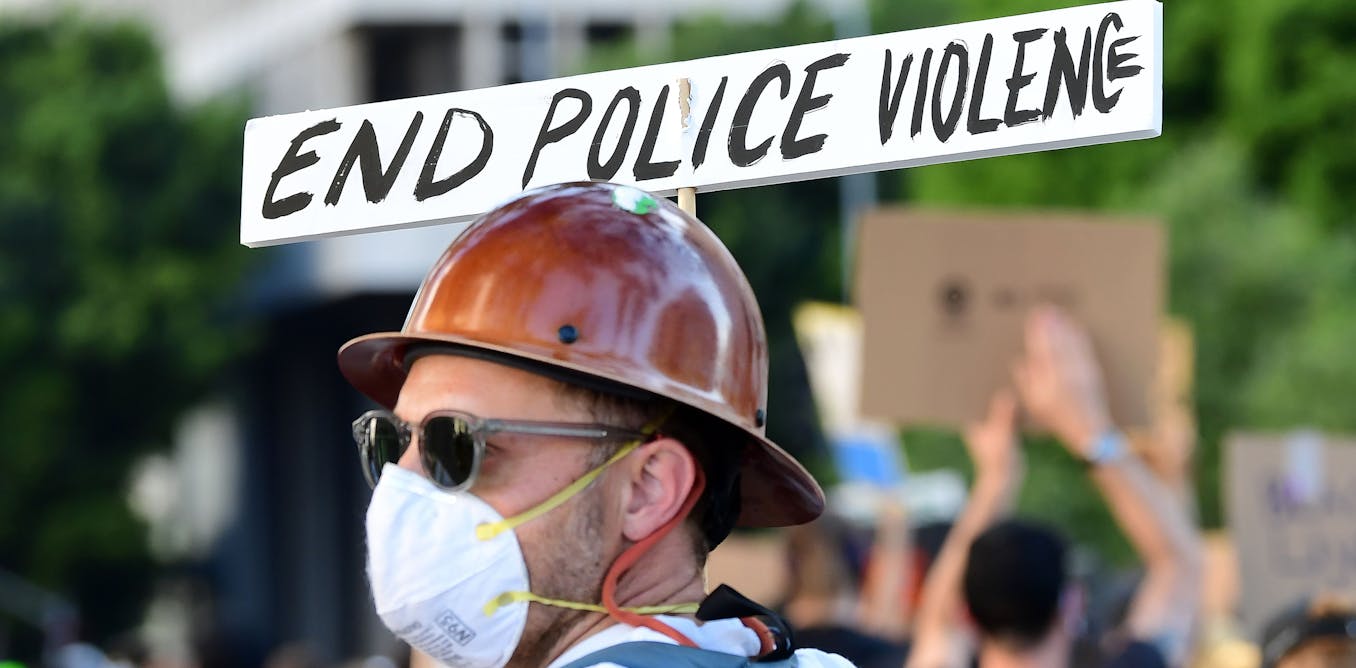 Seeking accountability in the brutal police beating death of her son, the mother of Tyre Nichols has filed a US$55 million federal lawsuit against the individual officers, the Memphis Police Department and the city of Memphis, Tennessee.
There's no way to predict the outcome of this lawsuit. But civil suits are by now a familiar tool of grieving families on a familiar quest.
Recent multimillion-dollar settlements by the city of Minneapolis over police use of excessive force and a Justice Department finding that police in Louisville, Kentucky, routinely violate the constitutional rights of Black people confirm what many have long complained about: that police are unnecessarily violent and violate their rights.
In mid-April 2023, Minneapolis settled two civil lawsuits against the city's police department, for nearly $9 million. Similarly, the third anniversary of Breonna Taylor's March 13, 2020, killing by Louisville police officers brought with it federal validation that officers from Louisville Metro Police Department and Louisville-Jefferson County Metro Government often violate the Constitution and federal law when they interact with Black people.
"It's heartbreaking to know that everything you've been saying from day one has to be said again through this manner; that it took this to even have somebody look into this department," Tamika Palmer, Taylor's mother, said after Attorney General Merrick Garland announced the Justice Department's findings on March 9, 2023.
Why are Black people so often ignored when it comes to complaints about their interaction with police? And why are police given automatic credibility and shielding from accountability?
Automatic credibility
In Louisville, in Minneapolis and across the nation, Black people have complained about police misconduct only to have those complaints ignored while white people's complaints of misconduct are more likely to be sustained.
One reason for this is that, throughout American society, Black people are viewed as criminals. This stereotype encourages more police encounters, which in New York City, for example, has led to Black people's being twice as likely to be stopped by the police. This might also explain why Black people, who are 12.5% of the national population, represent 33% of people arrested for nonfatal violent crimes.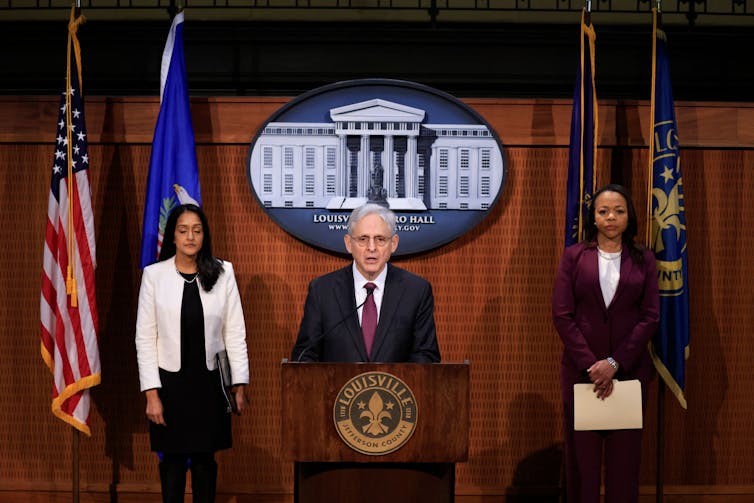 U.S. Attorney General Merrick Garland discusses the findings of the civil rights investigation into police departments in Louisville, Ky. Luke Sharrett/AFP via Getty Images
There's also a long history of police targeting racial minorities. From Black people in the South and, as I have written about, in the Midwest to Mexicans and Mexican Americans in the Southwest or the Irish, before they were considered white, in the Northeast, policing and controlling minority groups has often gone hand in hand.
And this history didn't just fade away as time passed. It became part of the culture of modern policing. This may account for the staggering levels of police misconduct toward Black people. Black men, for example, are more than three times as likely to be killed during a police encounter as white people. Black people are also more likely to be pulled over by the police.
These racial realities work in concert with cultural myths about police and policing that always paint them as heroes and good guys who protect us from the bad guys at great risk to their own personal safety.
These cultural myths and the support of the powerful Fraternal Order of Police – an organization made up of U.S. sworn law enforcement officers – justify violent police culture and help to immunize officers against accountability for their conduct.
Taken together, these things set up a hierarchy of credibility that shields police from accountability.
Shields against accountability
According to UCLA law professor Joanna Schwartz, legal protections like qualified immunity protect police officers from repercussions that stem from abuse. Qualified immunity is a 1967 Supreme Court doctrine that protects police and other government official from frivolous lawsuits.
The court rule was designed to reduce the power of the 1871 Klan Act, which empowered citizens to bring lawsuits against police for not protecting them from lynchings.
The law shields police from accountability by requiring that complaints include evidence to show that police conduct was unlawful and that the officer knowingly violated the law that was deemed illegal in a previous case. This legal formula gives police the power to frame interactions in a way that protects them from claims of abuse.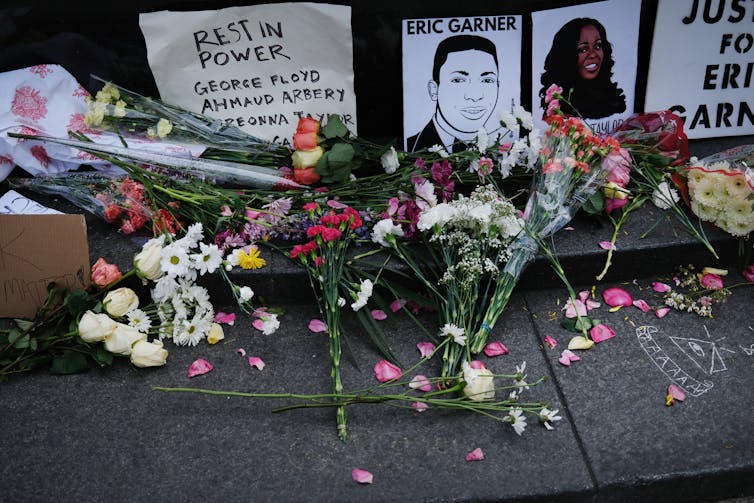 Flowers and pictures lay at a memorial for victims of police violence. Spencer Platt/Getty Images News via Getty Images
By claiming their actions were necessary to protect themselves, qualified immunity makes their actions legal and makes holding police accountable nearly impossible. In short, police are given the benefit of doubt and their version of events is taken as truth.
Even when complaints are made against police officers, the municipal attorney, who represents the officers, often doesn't communicate the complaint to the police department, on the assumption that it's frivolous.
The issue is not Black and white
As a geographer and scholar of African American studies, I use space and place to make sense of police abuse. And what my research demonstrates is that the disproportionate killing of Black people by police happens for two reasons:
1) Black people live in racially segregated communities that are heavily policed.
2) Black people are viewed as perpetual criminals.
This perspective has allowed me to understand how other groups are also affected by police violence in ways similar to Black Americans.
Homeless people, who are heavily policed and seen as criminals, experience disproportionate levels of deadly force, too. In Phoenix, for example, the Justice Department is investigating claims of abuse and excessive uses of force against homeless people. The investigation is also inquiring into whether the Phoenix Police Department has a pattern of unconstitutionally seizing and disposing of the belongings of people living on the streets.
Police misconduct also affects people with serious mental illness. In Salem, Oregon, for example, a woman called 911 because her son was intoxicated, high and mentally ill. Within minutes, a police officer burst into their house and shot her son dead, without trying to calm him down or assess the situation.
Police shot a 13-year-old boy in Salt Lake City after his mother called 911 because he was experiencing a mental crisis. Fortunately, the boy survived, but the same can't be said for Daniel Prude, whom police in Rochester, New York, killed because of erratic behavior.
Systematic police abuse of Black people and routine misconduct against homeless people and those with serious mental illness make encounters with police officers dangerous and potentially deadly. Giving police automatic credibility and shielding them from accountability will, I believe, perpetuate abusive practice and subsequently put municipalities in a never-ending spiral of using taxpayers' money to settle cases of police misconduct.