Student reporters fill crucial gap in state government coverage
The local news business is in crisis. The nation is currently losing two community newspapers a week, on average, and 70 million Americans live in news deserts, communities with little or no local news coverage. In much of the remaining territory, all that's left are decimated newsrooms and advertisement-heavy publications with little local news, sometimes called "ghost papers."
The problem is even more acute when it comes to covering the nation's statehouses. The total number of full-time statehouse reporters declined by 6% from 2014 to 2022. Yet state legislatures handle key issues, including abortion rights, voting rights and educational curriculum standards.
Where full-time staff reporters have disappeared, university-led statehouse reporting programs have stepped in, according to research from the nonprofit, nonpartisan Pew Research Center. More than 10% of statehouse reporters are students, and in some states they are a significant presence in the statehouse media corps.
A map showing university-affiliated local news programs around the U.S., from the University of Vermont Center for Community News.
Journalism boosts democracy
An informed citizenry is vital to a thriving democracy. Researchers have found strong ties between the availability of local news and community engagement, voting participation and number of candidates running for local office. Less local news leads to increased polarization and higher municipal government costs to taxpayers as accountability reporting declines.
Statehouse reporting programs are part of a larger commitment by universities to connect student education with local news needs. Through classes, newsrooms and media collaborations, these programs give students essential opportunities to use skills they have learned in classrooms – and provide badly needed local news coverage. Emerging scholarship finds partnerships between news outlets and universities are effective at both teaching students and serving the public.
I lead a national effort to document these programs around the country as part of the Center for Community News. As of early 2023, we had cataloged more than 120 programs in which university-led student reporting is contributing to local news coverage.
Among those, we found 20 instances of university-coordinated statehouse reporting, covering 19 states; Florida has two.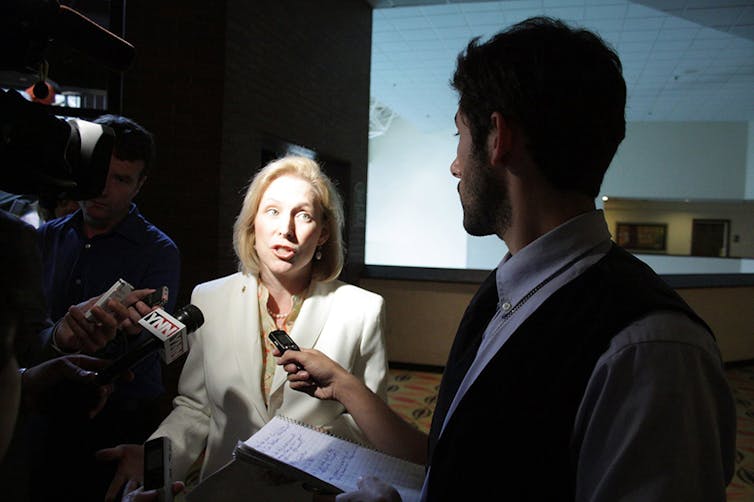 James Nani, with SUNY New Paltz's Legislative Gazette, interviews U.S. Sen. Kirsten Gillibrand of New York. Richard Watts, CC BY-ND
How the programs operate
These programs are not internships but statehouse reporting bureaus led by veteran journalists who assign, edit and vet student work to ensure it meets ethical and professional standards.
Once ready for publication, the students' work is shared with media platforms around the state, almost always free of charge. During 2022, about 250 student reporters produced more than 1,000 stories for 1,200 media outlets across 17 states. The remaining two states' programs, in Texas and Vermont, started in 2023.
Under professional direction, student reporters are producing important state-government stories across the country.
For example, at the University of Missouri, student stories on lack of high-speed internet service in rural areas in 2018 built momentum for lawmakers to pass new legislation that has provided millions of additional dollars to increase access to broadband.
In early 2023, the University of Florida's statehouse team broke the story of a new US$300,000 private swimming pool being built at the mansion occupied free of cost by the university president just before Ben Sasse, a former U.S. senator, assumed that role.
In Louisiana, 92 publications run stories from Louisiana State University's statehouse reporting team. In a companion effort, called the Cold Case project, students dive deeply into racist murders from the state's past. In late 2022, a series of stories about the police killing of two students at Southern University led to a public apology by Gov. John Bel Edwards.
In Montana, a student statehouse reporter wrote a probing story in early 2023 questioning spending in a state fund focused on mental health and health prevention. The story was republished widely, including in small papers like the Ekalaka Eagle, serving a town of 400 people, as well as the statewide news outlet the Montana Free Press. A week later, Gov. Greg Gianforte announced $2.1 million in new spending on universal mental health screening from the fund.
As far back as 2016, series of stories from the University of Maryland's Capital News Service generated a lot of attention about the lack of state oversight of nursing homes. Maryland Attorney General Brian Frosh cited the students' work in his pursuit of new regulations; legislators passed two laws addressing issues raised in the series.
A KOMU news report with student journalists covering the Missouri state capitol.
New programs launch
In Vermont, the University of Vermont's Community News Service started a statehouse reporting program this spring with three students who each receive six credits and a stipend of $1,000. Together the students have already published 23 stories on issues as wide-ranging as diversifying agriculture and child marriage.
For our university, the program meets several needs: Students get experience, media outlets get content and the university meets its public-service mission.
Clearly, more colleges and universities can step in to fill statehouse reporting gaps. We found that in just eight states – Georgia, Tennessee, Kentucky, Mississippi, South Carolina, New Jersey, Connecticut and Rhode Island – there are 42 colleges and universities with more than 200,000 students within 10 miles of the statehouses.
Public universities, with their public service mission and long-standing journalism programs, provide most of the student reporters in our study. Private colleges are largely missing.
But in Indiana, some of the 1,000 students at tiny Franklin College staff the Statehouse File, producing stories like a deep dive into the KKK's effects on the state and an examination of pregnancy-related deaths due to new abortion laws.
Student journalists in these university-led programs are filling local news gaps, adding legislative stories that are lacking while also building skills, polishing their clips and learning how government works.
I believe more public and private universities need to follow their lead. Democracy depends on an informed public.